DEL VALLEY SPEEDWAY
DEL VALLEY SPEEDWAY
Welcome to the home of DEL VALLEY SPEEDWAY. Here you will find info on my slotcar track and slotcar club. I will also provide you with some of the best links for slotcars on the web.
DVS TRACK
The track is made out of AFX/TOMY plastic track. I believe that this is the best type of plastic track there is to use for building a race track. The reason for this is that you get more choices on turn radius then the other makers of plastic track. (TYCO-LIFE LIKE). Also you can find AFX/TOMY track everywhere on the web. Each lane is painted for racing in this order (red/yellow/white/blue), but the controller stands are in this order (red/white/blue/yellow) this ensures that you are not racing by the same person during all four heats of racing!! Also i use track curbing instead of rails, so the cars on the outside lanes do not have any advantage over the cars that are racing in the middle lanes of the track. Each track lane is exactly 49.5 ft long. i was able to acheive the equal track lengths by having a crossover bridge. With equal track lengths all the lanes are the same to race on, usally the outside lanes on a track will turn more laps, but not on my track all laps for each lane are usally close to each other.
SUNDOWNERS
Below is a picture of my track logo, if you look closely it says (SUNDOWNERS SLOTCAR CLUB). this is a slotcar club i belong too in east central Illinois . In this club there are about 15 racers and growing, with 8 track owners we usally race every two weeks during the fall and winter. As of right now i believe we are the only club in this area covering about 75 miles.
DVS TABLE
The table size is 4x12 , this is made from a 4x8 and 4x4 piece of 1/2 inch plywood. These pieces of plywood sit atop a 2x4 frame. Then for the table legs i used 4x4 posts. All the wiring is 14 guage wire. Look at my table photo page for a visual. If you are interested in building a table go to (hoslotcarracing.com) for more detailed info and pictures.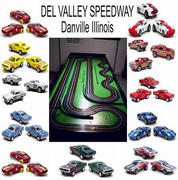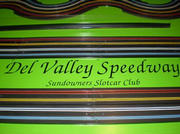 DVS G-JET RACE
10-19-06
WE HELD THE FIRST G-JET RACE AT JAYBO'S THURSDAY NIGHT. THERE WAS ONLY SIX OF US, BUT WE SURE DID HAVE FUN RACING THOSE LIL BOOGERS!!!
I WOULD LIKE TO THANK CHAD FOR KEEPING GOOD ON HIS WORD ABOUT HAVING THE FIRST G-JET RACE AT THE D.V.S THAT WAS COOL!!!! AS FOR THE RACING IT WAS PRETTY TIGHT WHEEL TO WHEEL. THE CARS PERFORMED FLAWLESS. THESE CARS ARE VERY FUN TO DRIVE AND I CANT WAIT TO HAVE A BIG G-JET RACE AT THE D.V.S ! WE HAD TWO RACES THE FIRST WAS A 5 MIN HEAT RACE SO WE COULD GET AQUANITED TO ARE CARS. TARVIS WON THIS RACE WITH 139 LAPS I HAD 134 AND CHAD HAD 130 AND CHARLIE HAD 128 TODD HAD 124 AND ROBERT HAD 118 THE SECOND RACE WE HAD WAS A 2 MIN HEAT RACE FOR ALL THE MARBLES. THE RESLUTS WERE AS FOLLOWS

1. TRAVIS 92.22 (TRACK RECORD)
2. JAYBO 92.3

3. CHAD 90
4. CHARLIE 88
5. TODD 85
6. ROBERT 80

DVS RECORDS
DVS RECORDS AS OF 11/25/06
P-CUP = JAYBO = 149.24 LAPS
G-JET = TRAVIS J = 93.30
OPEN T-JET = TRAVIS J = 66.24 LAPS
IROC GTP = TRAVIS J = 105.26 LAPS (SUPER-G PLUS)
IROC TYCO 440X2 = JAYBO = 91
XTRACTION = WAYNE G = 76